Nissan Connect Europe Services



Date - September 2018 - May 2019
Role - UX/UI Design
Tools - Sketch, Principle, Zeplin, Abstract


The Alliance Connected Vehicles (ACV) team is accelerating the deployment of connected solutions for everyone across the Alliance brands at Groupe Renault, Nissan Motor Company and Mitsubishi Motors Corporation.

Within the Alliance, ACV team is developing the Alliance Intelligent Cloud, which enables to connect future, current and past connected vehicles onto the same platform. This allows Alliance member companies to provide new services not only to the current generation of vehicles but also to some of the 70 million vehicles already on the road from Alliance members.



Create a connected application to redefine the relationship between Nissan car drivers and the Nissan brand

I joined the team at ACV to help the design of Nissan Connect mobile app. My role was to define the visual language and lead the UI design for the platform. This would set the design direction for ACV's other branding applications and formed the basis of the broader mobile style guides.

The NissanConnect Services iOS and Android apps has been launched in 24 languages across the EU since May 2019 and is available on Apple Store and GooglePlay Store.

Our first launch has been featuring Nissan Leaf (4th best EV cars selling in the world in 2019) and since then, the mobile app is covering a wide range of connected cars: Juke, Qashqai, Navara and more recently Infiniti (the luxury vehicle division of Nissan).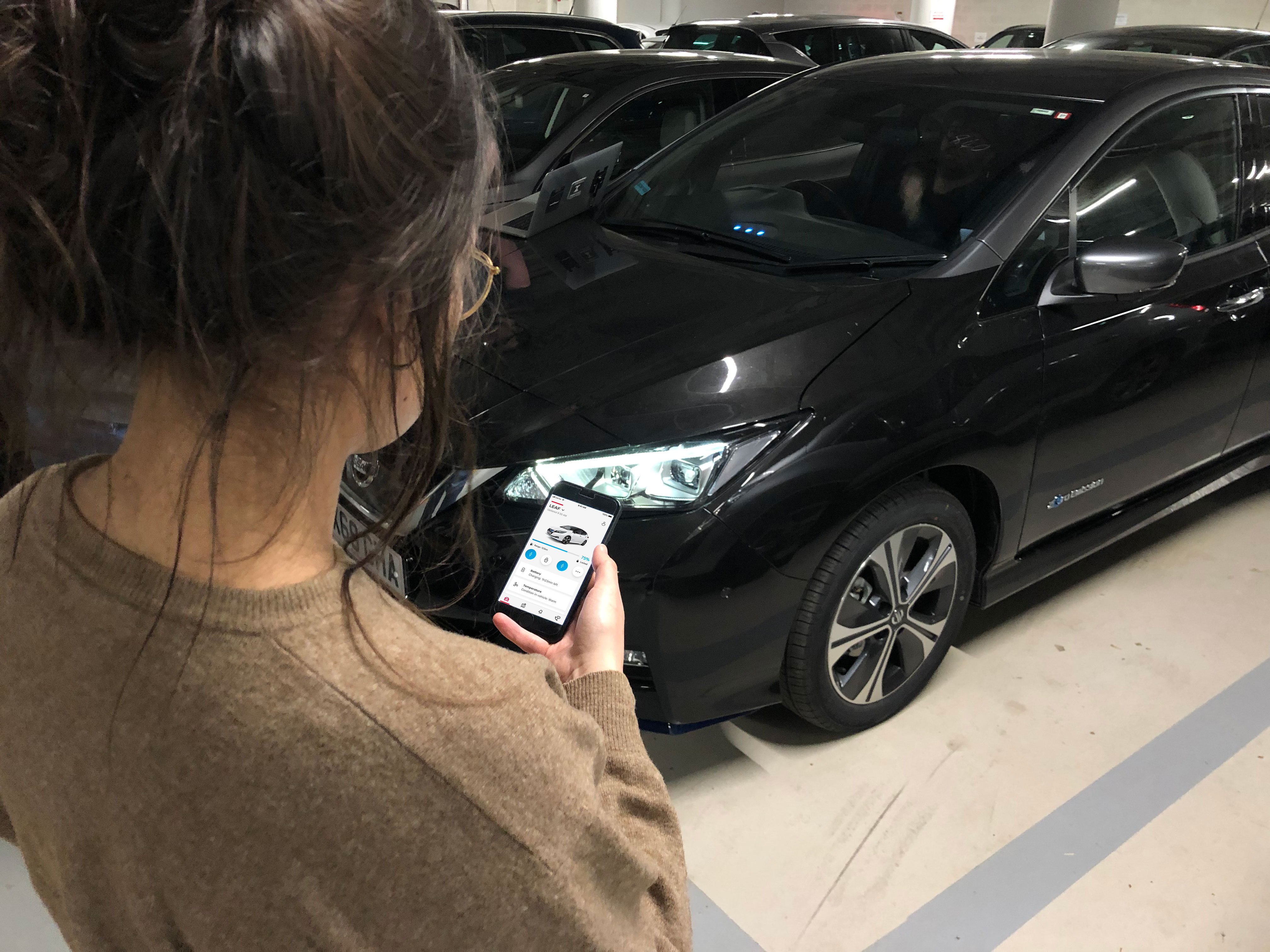 Gather feedbacks and testing to improve the products

Before launching the application for all users across Europe, we conducted user tests to validate the interactions, gauging general understanding and app usability. From insights gathered during EV driver user tests, it allows us to define the most important user features and highlighted these in the design: the vehicle's battery level, remote control features and finding a charging spot. The challenge here was to make the important features easy to access, integrating card-like access entry points to the app's home screen that showcase key vehicle information at a glance.

But we also had to test the app with the car before its official launch to validate the last technical assumptions.
Set a design system
When I joined ACV, we were 4 designers working on the same file and although we shared common styles and had the UX principles in mind, individual teams made decisions in isolation, leading to inconsistencies and duplication. Key principles were not documented and were only shared with new starters on an ad hoc basis. Ultimately, as the number of features grew to improve our MVP, design processes needed to scale too.

Implementing a design system became a main priority as this would set the design direction for ACV's other applications and formed the basis of the broader mobile and web platform style guides.


The most difficult part was to convince teams and stakeholders the prove the power of having a design system as it requires time and lots of iterations to build it properly. But it has definitely sped up our design process later on.

Implementation
The main objectives of the project were to improve the consistency of our product, build trust and create a cohesive experience for clients. We also wanted to improve our internal process making the design process more transparent and collaborative.



Design audit
First was the design audit – combing through the current design we had on our MVP and report inconsistencies. The focus was on finding inconsistencies in the patterns and styles used. This covered all of the basics including typography, colour, iconography, brand elements and tone of voice. The second step were documenting the chosen approach and working closely with the engineering teams to create codified components for the different development libraries.
Setting the rules
The second step were documenting the chosen approach and working closely with the engineering teams to create codified components for the different development libraries. We had to make sure everybody speak the same language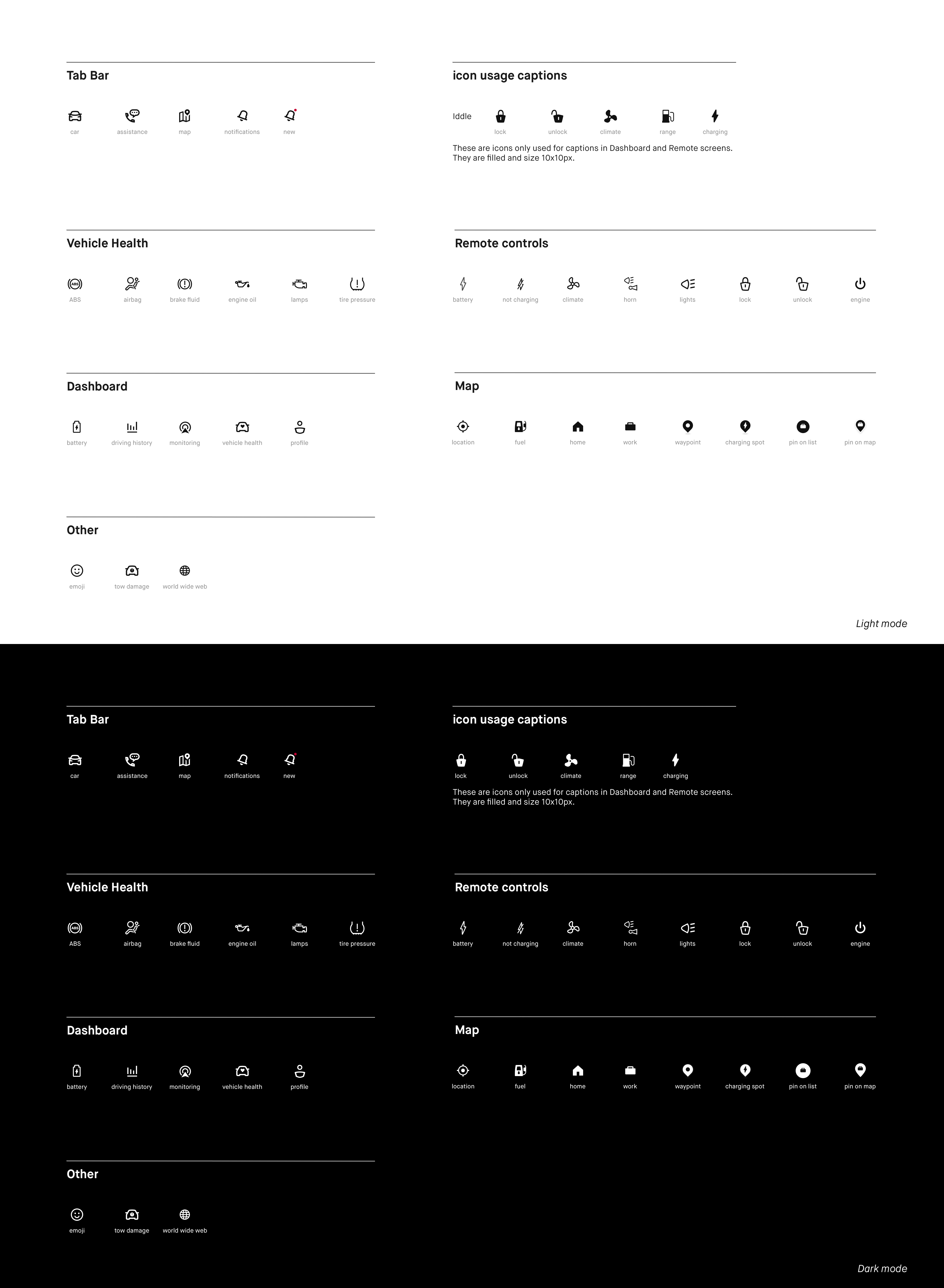 Reviews, iterations and validation
Next was a review of our design thinking and values. We had many people involved in that design system indirectly that we needed to communicate clearly about that and interview people that are most likely to interact with it to see how they are actually going to use it (mainly design peers, engineering team). Working in such a big organisation tighten us in many project principles. Working with the Head of Design, we pulled together all of the unwritten rules we used as a team to critique some set rules from Nissan global branding (that we could not apply for the mobile app) such as color accessibility, color contrast, typography.

Throughout this process we were collaborating with our international colleagues, presenting the system at regular intervals to teams around the world.




Outcomes and learnings
Building design systems is tricky. It relies on a huge amount of hard work and collaboration from across a business. It also requires a certain kind of mindset. Unlike the brand guidelines and style guides that came before, design systems are living entities that need to constantly evolve to stay relevant useful.

My biggest learning from the project are:



1 - Being more and more agile
It's so much easier to record thinking as it happens rather than retrospectively document changes. Make sure when you start a new project that you set a side time to document changes that are relevant to the design system.





2 - Getting more people invovled
Creating a design system isn't a job for one person or even a small team. It requires support and buy-in from a multitude of teams and stakeholders. Find people that are motivated and get them to help you build awareness for the project.




3 - Get the level of detail right
Figuring out the right amount of detail to include in your design system was one of the biggest headaches of the project. Include too much and your system become dense and obtuse. Don't include enough and your team are left asking questions.



Consolidation and make it scalable for other ACV brands
Infiniti is the luxury vehicle division of Japanese automaker Nissan. The marketing network for Infiniti-branded vehicles includes dealers in over 50 countries and they also need a mobile app for their connected vehicles re-using Nissan Connect UX principles with a premium tone of voice, branding and additional features.